Thanks to you, BGL BNP Paribas covered the housing costs of clients facing financial hardship(*)
The coronavirus crisis affected us all. For some people, the crisis caused major financial hardship. With this in mind, we decided to help by launching a solidarity initiative during the crisis, which ran until 31 August.
With your support, we were able to:
cover the housing costs of over 100 BGL BNP Paribas clients facing financial hardship by making contributions to their monthly mortgage repayments;
donate EUR 30,000 to the charity Caritas Luxembourg as part of their CORONA-HELPLINE project aimed at supporting people struggling with housing costs.
Our customers thank you
« Nous tenons à remercier BGL BNP Paribas et tous les clients participants pour cette action de solidarité. Après ce moment de crise, une aide est la bienvenue. » 
Client of the branch Esch-Belval
« Très beau geste d'humanité. Etant client depuis 33 ans, je tiens à remercier de tout cœur la banque BGL BNP Paribas d'avoir toujours répondu présent et surtout dans les moments difficiles. »
Client of the branch Howald
« Zemools an der Kris ass d'BGL BNP Paribas de Clienten entgéint komm an huet se net am Stach gelooss »
Client of the branch Wiltz
«  Villmools Merci, ech si sprachlos. »
Client of the branch Mersch 
Coronavirus in Luxembourg: looking back at an outpouring of solidarity
As you will recall, the initiative was launched in June 2020 and ran until 31 August. 
How did you take part?
All you had to do was make purchases using your BGL BNP Paribas payment solutions. Every time you made a payment, BGL BNP Paribas contributed EUR 0.10 to a special coronavirus fund.
Donation of EUR 30,000 handed over to Caritas Luxembourg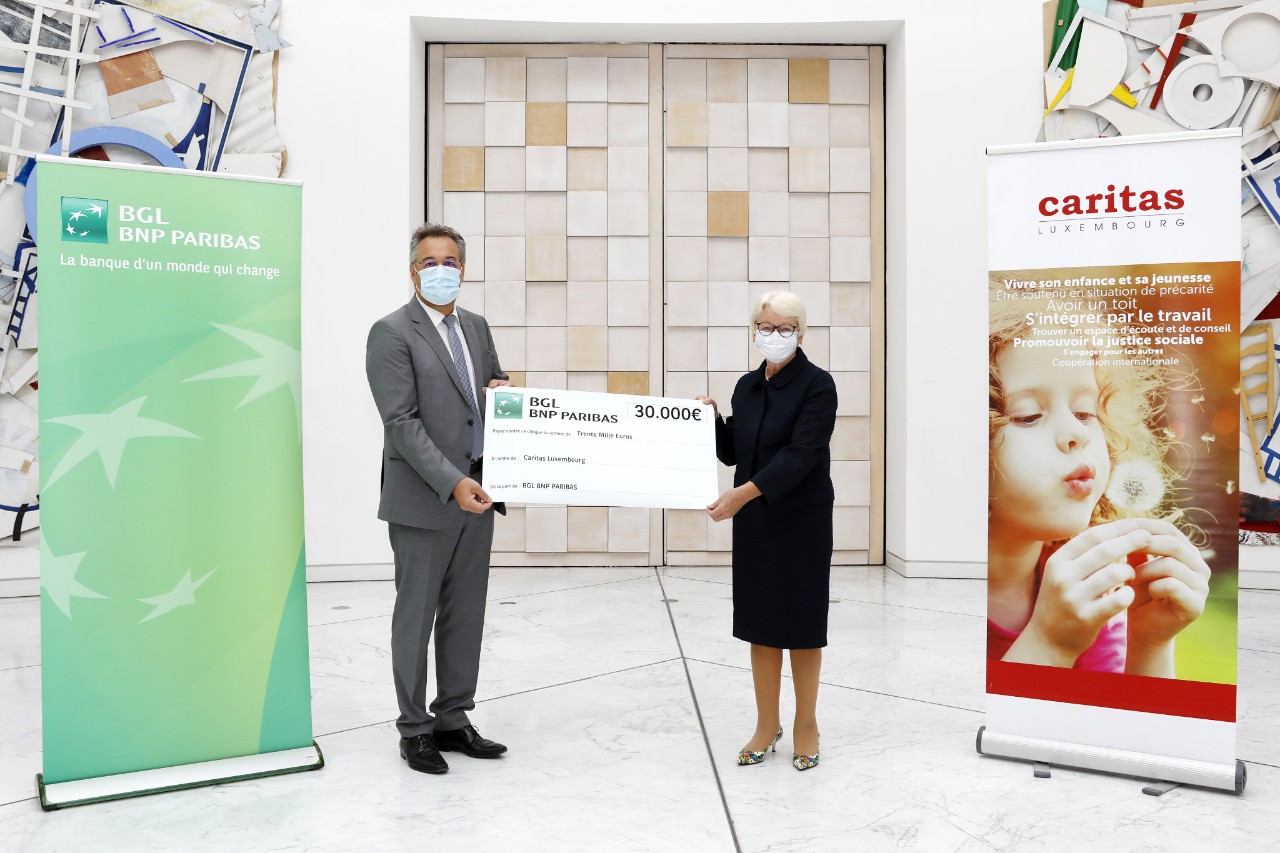 Which credit cards were included in the initiative?
To participate, you could use the following BGL BNP Paribas credit cards:
You could also get involved by making mobile payments:
What types of payments were eligible for this initiative?
Whether made in-store or online, all payments made using the BGL BNP Paribas payment methods listed above were taken into account.
Let's step up to help those in need
This solidarity initiative set up by our Luxembourg bank is unprecedented. It is the latest in a range of measures taken to support those is need since the start of the coronavirus health crisis 
As a local and socially engaged bank, BGL BNP Paribas has:
rallied support from a number of its employees for public interest initiatives;
encouraged donations to charities in the healthcare sector;
donated thousands of protective masks to the Ministry of Health;
expedited payment to its suppliers;
enhanced its emergency plan.
Coronavirus solidarity initiative
Any questions ?
Our advisors are available on (+352) 42 42 2000, Monday to Friday from 8.00 am to 6.00 pm.
Send a message
Frequently asked questions
How do I activate my debit or credit card?

To activate your credit or debit card you can either :

To activate your credit or debit card you can either :



Make sure you have the payment card to hand.
Log in to the Web Banking app.
Select the card you want to activate and click the "Activate this card" button.
Follow the instructions and enter the last four digits of your card.
Click "Activate this card".
Your card is now ready to be used!

Make an in-store purchase or withdraw cash from an ATM. 

You cannot use the contactless function for your first transaction, as the PIN is required.