The go-to payment method for your day-to-day transactions
The V PAY debit card makes managing your budget a breeze. It's there when you need it, wherever you are:
withdraw cash 24/7 at more than 365,000 ATMs. It's free to take money out when you use the BNP Paribas group ATM network and the Deutsche Bank network in Germany;
make purchases at all stores in Luxembourg and in over 8 million stores throughout Europe;
make transfers and payments at BGL BNP Paribas' ATMs in Luxembourg.
Discover all the countries where your V PAY debit card can be used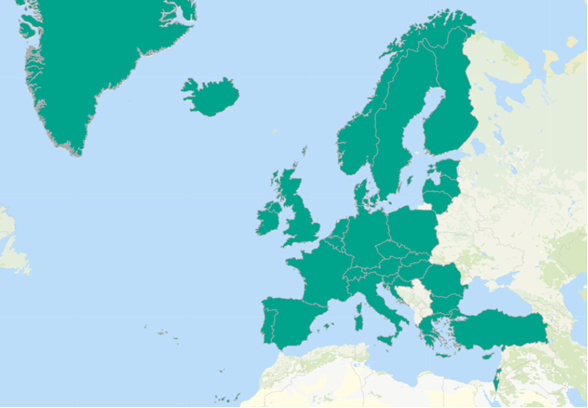 List of countries:
Europe
Austria, Bulgaria, Croatia, Cyprus, Czech Republic, Denmark, Estonia, Finland, France, Germany, Greece, Hungary, Ireland, Italy, Latvia, Lithuania, Luxembourg, Malta, Netherlands, Poland, Portugal, Romania, Slovakia, Slovenia, Spain, Sweden, United Kingdom
Outside Europe
Andorra, Gibraltar, Greenland, Iceland, Israel, Liechtenstein, Norway, Switzerland, Turkey
Where can I withdraw cash abroad free of charge using my V PAY debit card?
Contactless payments: easy, fast and secure
Instant payments are here! All BGL BNP Paribas credit and debit cards now offer contactless payments.
This technology enables cardholders to make purchases without having to insert the card into the machine.
In Luxembourg, you can use your contactless bank card for any amount. For purchases of less than EUR 25, no PIN code is required up to a maximum total amount of EUR 100. For larger transactions, you'll need to enter your usual PIN code.
Offer subject to terms and conditions and approval of your application by the bank.
Your payments
Order your V PAY in just a few minutes.
You can contact our advisors between 8.00am and 6.00pm, Monday to Friday, on (+352) 42 42-2000.
Send a message
Frequently asked questions
What is a debit card?

A debit card is a bank card directly tied to your current account. In-store purchases and withdrawals are debited from your account straight away. What's more, your debit card lets you make free cash withdrawals in euros using the BGL BNP Paribas ATM network, the BNP Paribas group Global Network and the Deutsche Bank network in Germany.

Do I need a credit card if I already have a debit card?

Credit cards are used in conjunction with debit cards.

Credit cards let you pay for your purchases online and defer the full payment of your purchases to the next month, without any additional charges.

Unlike V PAY debit cards, credit cards are accepted everywhere in the world.

What's more, if you select the Mastercard product range, you'll also benefit from credit card assistance and insurance services.

However, for ATM withdrawals we suggest you use your V PAY card to limit any fees.

Can I make online purchases using a V PAY card?

How can I obtain my V PAY card statement?

Transactions made with your V PAY card are shown under "purchase/withdrawal" on your current account statement.

What is my debit card limit and how can I change it?

Your debit card limit is strictly tied to your current account balance.

The default debit card limit is €1,250 per week for withdrawals and €1,250 per week for in-store payments.

If you wish to change these limits, contact your account manager in order to define the limits best suited to your needs and personal situation.

Does my current account have an overdraft facility?

The bank may grant an overdraft facility depending on your personal situation, subject to your application being approved.

It is best to negotiate an arranged overdraft with your account manager, as an unarranged overdraft or overrun of the agreed amount presents a higher risk for the bank and therefore higher fees. See conditions in the BGL BNP Paribas pricing guide.

Need more flexibility? Contact your advisor to activate an arranged overdraft of up to €12,500 (OptiLine credit facility, subject to approval of your application).