Conference on BNP Paribas' social commitments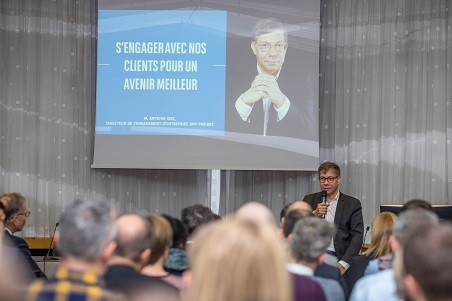 At a conference organised yesterday for BNP Paribas employees in Luxembourg, Antoine Sire, Director of Company Engagement, presented the positive and concrete actions the Group has been taking for many years.
Every social player, institution, company and individual has the opportunity – and at times the moral duty – to help fight the climate emergency. Mr Sire stressed that the banking world needs to reinvent itself via a more digital and socially-driven approach.
The BNP Paribas Group has long focused its efforts on striking a balance between its development and protecting the environment. The Group achieves this balance with the help of its stakeholders: society, its clients, employees, shareholders, suppliers, etc.
Antoine Sire also read out an excerpt from the BNP Paribas 2020 Engagement Manifesto: "We plan to strengthen our commitment, in line with the UN's 17 Sustainable Development Goals". BGL BNP Paribas Luxembourg is fully committed to this objective and operates with a strong focus on sustainable development.