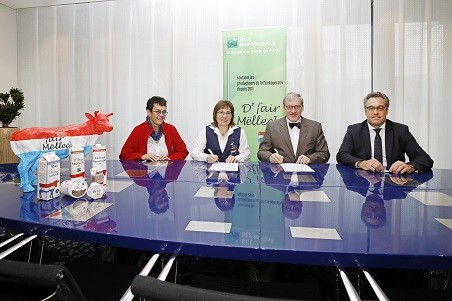 BGL BNP Paribas renews its support for D'fair Mëllech
Created in 2011, Fairkoperativ now includes 51 Luxembourg milk producers making high-quality milk while also taking into account the environmental impact of each farm. Fairkoperativ markets the milk produced under the D'fair Mëllech brand, giving producers a fair price for it.
BGL BNP Paribas is active in the development of local and fair trade, and has renewed its partnership with Fairkoperativ to remain its primary partner in the D'fair Mëllech initiative. The bank stands alongside Luxembourg farmers for the production and promotion of fair trade milk.
On 24 January 2020 at the BGL BNP Paribas headquarters, the bank signed an official agreement renewing its partnership with Fairkoperativ. The cooperative was represented by its chairwoman Danielle Warmerdam-Frantz and vice-chairwoman Tessy Theissen-Bram, while the bank's representatives were Thierry Schuman, member of the Executive Committee, and Romain Girst, Head of Retail Banking.