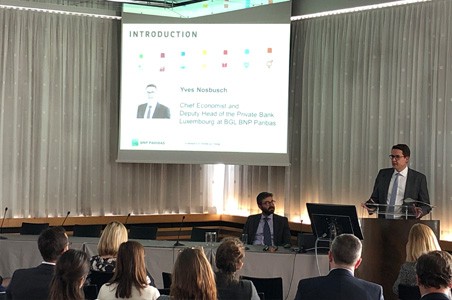 LuxFLAG Sustainable Investment Week 2019 - BGL BNP Paribas invites guest speakers to discuss "Investing in environmental solutions"
On 24 October, BGL BNP Paribas premises were used as a venue for one of the lectures organised as part of LuxFLAG Sustainable Investment Week 2019. 
The theme of the conversation was investing in environmental solutions.

The participants discussing this key topic were Nathalie Blanchet, Head of Sales, BNP Paribas Asset Management, Justin Winter, Portfolio Manager, Impax Asset Management and Yves Nosbusch, Chief Economist at BGL BNP Paribas.
Climate change, pollution, dwindling natural resources, demographic growth and many other issues are on course to have a profound impact on the international capital markets. Companies have no choice but to adapt to the environmental challenges ahead. Surviving and thriving in a changing world will involve identifying investment opportunities that reflect the economic changes on the horizon.