It's important to remain people-orientated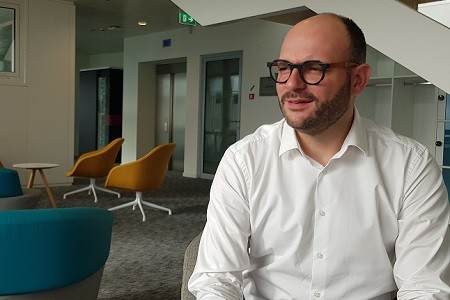 My name's Philippe Bach, I'm 44 and the father of three children.
I joined BGL BNP Paribas on 16 July 1999 after a degree in Computer Engineering.
I started my career in IT networking, before moving on to security. I'm now responsible for digital services provided to employees, and coordinate the IT aspects of a project enabling staff to work from home.
In recent years, I've had the opportunity to take part in various initiatives concerning the company's digital transformation.
I find new approaches to organising work, especially through agility. It's important to remain people-orientated. I'm a strong advocate of teamwork.
In the course of my work, I had the chance to meet Jimmy Corneille, who's behind the OneStepForward project. With this project, he focuses all of his energy on helping to integrate refugee students with the backing of the BNP Paribas Group through an internal entrepreneurship programme.
When Jimmy Corneille asked me if I would be interested in mentoring a refugee, I didn't hesitate. His OneStepForward programme was selected as part of a BNP Paribas Group entrepreneurship programme. The project entails helping to integrate refugee students into our society. The structure provided aims to support students through a mentoring and employment access programme.
I was able to meet people with varying profiles, keeping in mind that one of my tasks as a mentor is to help the person grow. From my point of view, it was important to choose someone who shared an interest in my area of expertise: IT.
For various reasons, my mentee will be Esu, a 30-year-old Eritrean. He made an impression on me at our first meeting during a "speed dating" event at the bank, the aim of which was to find the right match between mentor and mentee.
Esu is remarkable in his determination to fit in and learn. That's not easy as it takes a very long time to get all of the documentation that will allow him to put this problematic refugee status behind him.
The pandemic hasn't helped, and lockdown must have been a double whammy.
"Put some of our daily worries into context"
My goal, as well as guiding and training him, is to help him find an internship that for him would mean getting back to an almost normal life in which he has a job.
Mentoring is both difficult and inspiring.
I feel Esu's problems: I can see that he misses his loved ones and his culture. I admire his motivation to learn and keep his chin up, and his determination to work hard and move forward.
"I am proud to work for a company that lets its staff experience such moments"
It's a good lesson in life. It makes me realise how lucky we are to live in Europe and work in Luxembourg. It forces us to listen to others and be humble.
Give what we have, what we can, at work while thinking of those who have next to nothing. Put some of our daily worries into context. Think about the many Esus who have fled their country, their loved ones and culture, who have started out on a long battle with fear in their belly.
I am proud to work for a company that lets its staff experience such moments, finding meaning in their work for the common good.
The bank benefits, by having committed staff alongside an image of being a socially responsible company.
Written by Philippe Bach - November 2020